The trip between Yarmouth and Alum Bay.
Please note this is a one way trip only
Yarmouth Harbour to Alum Bay.
Departs Yarmouth 9.15 / 9.30am daily.
Alum Bay to Yarmouth Harbour
Departs 4.30 – 4.45pm daily.
Duration of trip depends on the tide and which type of boat you choose to go on, so could be anything from 15 minutes to 45 mins.
The trip may be subject to weather and or operational restrictions, so booking is essential. Tel 01983 761587 or email info@needlespleasurecruises.co.uk
Prices
£9 per person, each way
Fast Yellow Jet Boat – Minimum age 6. No dogs allowed
Slow Boat – All ages welcome, in fact children under 3 and dogs welcome free!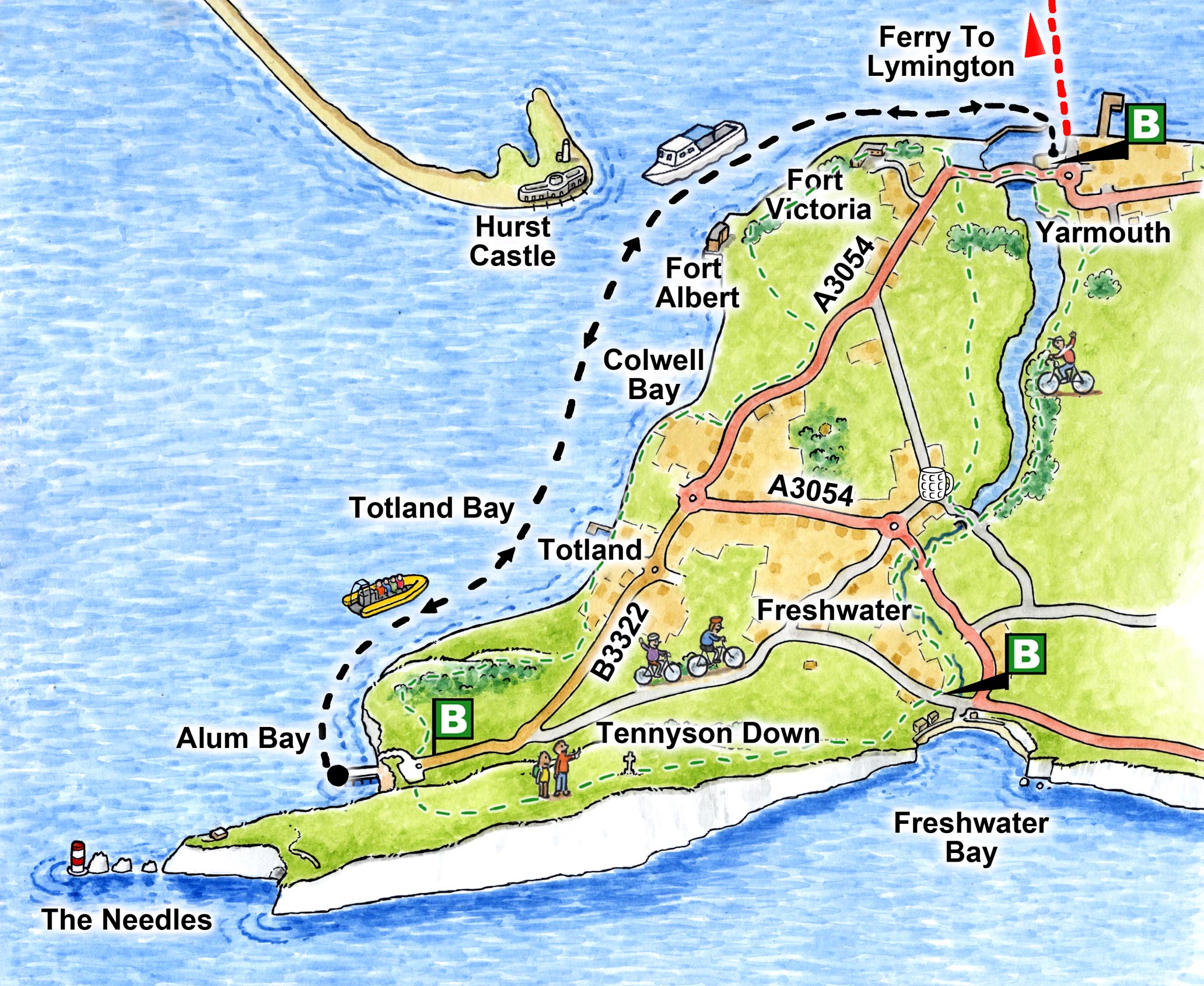 This route provides the ideal opportunity to explore the West Wight by foot, bike or bus. With numerous foot paths, bike tracks, and bus routes, there is no reason to arrive by car. Join us at the beginning of your day at Yarmouth, to be dropped off in Alum Bay at the heart of the action and start your return journey back to Yarmouth by any number of routes via foot path, cycle track or bus, or simply spend the day in the Needles area and come back to Yarmouth by boat in the evening with us again.
Alternatively start your day at Yarmouth exploring the West Wight, finishing at Alum bay and let us take the weight from your feet with an evening trip from Alum bay back to Yarmouth.
Popular trails around the West Wight would include:
Tennyson trail along the cliff top from Alum Bay into Freshwater Bay
The disused railway line between Yarmouth and Freshwater that runs alongside the River Yar.
The coastal walk between Totland and Yarmouth
Bicycles are welcome on the slow boat.